Professional Carpet Repairs – Can You Dye Carpet?
Dyeing a carpet might seem like a DIY project, but it's actually a difficult job that needs to be left to the professionals. Find out why with this article about professional carpet repairs!
Why You Need to Call a Professional Carpet Cleaning Expert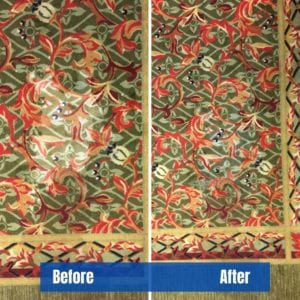 If you're trying to dye carpet in your home, you'll likely find that it's difficult or impossible to use the dyes on store shelves. This is because the chemicals used in these dyes are not as effective when they're mixed with carpet fibers. You'll need a professional to help you with this task. Professional carpet cleaners are highly trained and have extensive experience. Their staff is here to provide you with the best service possible so that your carpet is as clean and as safe as possible.
NuWay Carpet Dyeing and Repair offers a number of different services to their customers. We use specialized equipment, including dyes in over 100 different colors. This makes it much easier to repair stains than using other methods. Our professionals will then be able to quickly restore the look of your carpet saving you thousands on replacement.
What Types of Carpets Require Professional Cleaning
Carpet is a huge investment for most people. It can be difficult to determine the type of carpet that you have, even if it was installed at home by a professional. Here are some characteristics of carpet types that would require professional cleaning:
ߜ Rugged wool carpeting.
ߜ Sisal and jute.
ߜ Fiberglass or plastic carpeting.
ߜ Vinyl flooring with an underlayment of hard-surface padding (such as tile).
ߜ Carpet fibers are chemically bonded to a resilient backing, such as corduroy or velvet.
Fabrics, Blends, and Indoor vs. Outdoor
Carpets are fabrics that have been woven together to form a surface. The ways in which carpets can be dyed vary depending on the type of carpet in question. Fabrics can be dyed using natural dyes, synthetic dyes, or dyeing machines that harness chemical reactions to create colors. Occasionally carpets need special treatment when it comes to dyeing because UV rays from the sun will eventually fade their colors, resulting in stains and discoloration. NuWay Carpet Dyeing and Repair offers Wall-to-Wall Carpet Dyeing services to repair carpets that have faded from being in a room with a large amount of natural light that has caused fading from the original color.
Carpets are a part of our homes and what we use on the floor. Depending on how often you wash them, you might find that it's difficult to keep them as clean as you'd like. Sometimes, when you have a pet or children, accidents happen and you will have stains on your carpet for a long time. There are ways to repair stains from carpets using our proprietary dyeing process that will add many years of life to your carpeting.
Common Carpet System Signs of Damage
If you have carpet that is visible with stains, then it's time to think about professional carpet repairs. This is a much more affordable option than replacement and will help your carpet look new and fresh again. One way to tell if the carpet needs repairs is by looking for signs of damage caused by pets, water, or dry rot. Another sign of damage would be discolorations on the floor from spills or footprints in the dust. If any of these symptoms are present, then call us today at NuWay Carpet Dyeing and Repair!
Side Match and Carpet Color Blending
When it comes to professional carpet dyeing services, our technicians make sure that any stains on carpets are repaired to the best of our ability. Ofter there can be color blending problems when working with large areas of carpeting, such as commercial office buildings, hotels, and condominium properties.
Since 1989, NuWay has helped clients just like you maintain a beautiful property, without the huge expense of buying new flooring. NuWay specializes in on-site carpet dyeing and Carpet Repair for commercial and residential clients – including the hundreds of hotels and condos we have served. We provide Carpet Spot Dye, Wall-to-Wall Carpet Dye, Carpet Repair, Carpet Matching, Feather Blending, Carpet Stain Correction, every aspect of Carpet Repair, and more.
DIY Methods for Stain Removal
Home carpet cleaners worry about whether or not they should attempt to remove stains from their carpets. The best thing for many people to do is to call in professional help. However, if you decide to try a DIY stain removal process, know that there is no way to "re-dye" a carpet. Once you go down this road, the only solution may be to completely replace your carpet. You must consider the following 3 steps before attempting your own stain removal process:
Professional carpet cleaning methods should be used. It is best to contact a professional carpet cleaning company that has experience with removing stains.
Contact NuWay Carpet Dyeing and Repair!
NuWay Carpet Dyeing and Repair supplies wall-to-wall carpet dyeing. We use the highest quality dye in our process. Our technicians will ensure that your carpet's color is perfect before we place it back in your home. Your carpet will last longer and stay fresh with our professional service. Our Wall-to-Wall Carpet Dyeing and Repair Services can meet any need of your customers. We have a variety of carpet dye colors to choose from, so you shouldn't worry about not supplying the perfect match. You have the choice of choosing from semi-permanent or permanent dyes, which is great for high-traffic areas such as those in schools, gyms, and hospitals. NuWay Carpet Dyeing and Repair Services offers a wall-to-wall carpet dye service that can be done in just a few hours. NuWay Carpet Dyeing and Repair is a business that supplies wall-to-wall carpet dyeing and repair. There are many benefits to using NuWay's services. Their technicians are highly skilled; they come to your home in order to offer you their expertise in the way of tailoring your carpet to your needs.
For more information about their services, contact NuWay Carpet Dyeing and Repair today at 214-997-5166 or Contact Us.